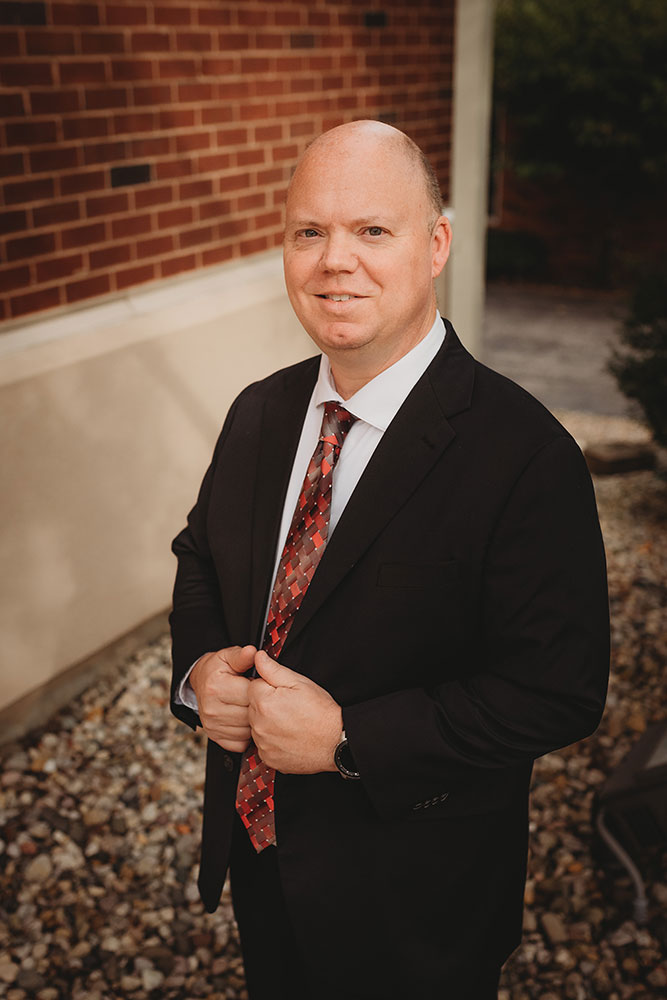 James Craney is the founder of Craney Law Group. He grew up in the Southern Illinois area, and is a lifelong resident of the Illinois and St. Louis Missouri region. His areas of practice include general litigation with an emphasis upon trial, employment law, municipal law, environmental litigation, first party insurance litigation and complex business litigation. Mr. Craney is licensed in Illinois and Missouri, and all federal district courts in those states. He is also admitted before the Seventh and Eighth Circuit Courts of Appeals.
Mr. Craney serves on the board of directors for a local non-profit corporation. James has tried over 30 cases to conclusion. In addition, he regularly appears before the EEOC and Illinois Department of Human Rights representing employers throughout the administrative review process. He has obtained numerous summary judgments on behalf of insurance carriers in insurance coverage litigation, both in state and federal court. James has extensive experience with alternative dispute resolution, including arbitrations, both court-ordered and contractual. James has served as a panel arbitrator within the mandatory civil arbitration system in Madison County, Illinois. His practice has also included a large volume of asbestos and other toxic tort matters in the litigation hotbeds of Madison and St. Clair Counties in Illinois, and the emerging toxic tort venue in St. Louis Missouri.
James obtained the Health Law Certificate from St. Louis University law school, and previously clerked with the U.S. Department of Health and Human Services, Office of Inspector General. Prior to his legal career, James worked as a statistical data analyst with Washington University medical school, and has co-authored numerous medical journal articles.
Saint Louis University School of Law, St. Louis, Missouri
University of Texas School of Public Health, Dallas, Texas

Masters in Public Health – 1998

Southern Illinois University at Carbondale, Carbondale, Illinois

Masters of Science – 1995

University of Illinois at Urbana-Champaign, Champaign, Illinois

B.S., Bachelor of Science – 1991
Illinois
Missouri
U.S. District Court Central District of Illinois
U.S. District Court Southern District of Illinois
U.S. District Court Northern District of Illinois
U.S. Court of Appeals 7th Circuit
U.S. Court of Appeals 8th Circuit
U.S. District Court Eastern District of Missouri
U.S. District Court Western District of Missouri
U.S. Bankruptcy Court Southern District of Illinois
U.S. District Court District of Colorado
"The Supreme Court Takes on Personal Jurisdiction: What the Court's Recent Opinions Tell Us About the Future of Personal Jurisdiction," Illinois Association of Defense Trial Counsel, IDC Quarterly Monograph (January 2018, Volume 27, Number 4)
"Wage Peace, Not War: What Employers Need to Know About the Fair Labor Standards Act," Illinois Association of Defense Trial Counsel, IDC Quarterly (4th Quarter, 2016)
"Premises Liability Primer," Continuing Education Presentation for the Claims & Litigation Management alliance. Chicago, Illinois, February 2016
"National Labor Relations Board Broadens the Standard for Joint-Employer Status," Illinois Association of Defense Trial Counsel, IDC Quarterly (4th Quarter 2015)
"The IDC Monograph: For your Consideration: The Current State of Post-Employment Restrictive Covenants in Illinois and National Trends Beyond Continued Employment as Adequate Consideration," Contributing author on Monograph published in Illinois Defense Council, IDC Quarterly, Volume 25, Number 1 (2015)
"Strange Bedfellows: Employers, Unions, and the 'Hybrid Sec. 301' Claim." Illinois Association of Defense Trial Counsel, IDC Quarterly, Vol. 25, No. 1 (2015)
"Introduction to Section 1983 Claims," Continuing Education Presentation for the Claims & Litigation Management alliance. Addison, IL, February 2015
"Illinois Employers May Not Pre-Screen a Job Applicant's Criminal History." Illinois Association of Defense Trial Counsel, IDC Quarterly, Vol. 24, No. 4 (2014)
U.S. Supreme Court Further Clarifies the "Changing Clothes" Standards in the Fair Labor Relations Act. Illinois Association of Defense Trial Counsel, IDC Quarterly, Vol. 24, No. 3 (2014)
"Following Adoption of Same-Sex Marriage Law in Illinois, Will Employers See a Rise in Marital Status Discrimination Claims?" Illinois Defense Council, IDC Quarterly, Volume 24, Number 1 (2014)
"The IDC Monograph: Tort Immunity Act," Contributing author on Monograph published in Illinois Defense Council, IDC Quarterly, Volume 24, Number 1 (2014)
U.S. Supreme Court Clarifies that Title VII Retaliation Claims are Subject to "But-For" Rather than "Motivating Factor" Standard. Illinois Association of Defense Trial Counsel, IDC Quarterly. Vol. 23, No. 4 (2013)
"Fifth District Affirms the Constitutionality of the Illinois Employee Classification Act, Illinois Supreme Court Accepts the Appeal," Illinois Association of Defense Trial Counsel, IDC Quarterly, Volume 23, Number 3
"Litigation 103: Discovery Practice" Continuing Education Presentation for the Claims & Litigation Management Alliance. Chicago, Il, October 2013
"Illinois Court of Appeals Rules that a Plaintiff's Judicial Admission May Determine Her Employment Status for Purposes of an Employer's Summary Judgment," Illinois Defense Council IDC Defense Update, October 2013 (Vol 14, No. 2)
"The New Rules for Civil Settlement in Illinois: What Defendants and Insurers Need to Know," Claims Journal (online) September 18, 2013, James Craney and Michael Haggerty
"7th Circuit Opinions Reflect Changing Standard of Causation in 42 U.S.C. 1983 Actions Involving Public Employee's First Amendment Rights," Illinois Defense Council IDC Defense Update, May 2010 (Vol. 11, No. 9)
Geller, Tillman, Craney, et al. Four-year prospective outcome and natural history of mania in children with a prepubertal and early adolescent bipolar disorder phenotype. Archives of General Psychiatry, 2004 May; 61(5): 459-467
Craney & Geller. A prepubertal and early adolescent bipolar disorder-I phenotype: review of phenomenology and longitudinal course. Bipolar Disorders, 2003 Aug;5(4): 243-56
Craney & Geller. Clinical implications of antidepressant and stimulant use on switching from depression to mania in children. Journal of Child and Adolescent Psychopharmacology, 2003 Summer;13(2):201-4
Geller, Craney et al. "Phenomenology and Longitudinal Course of Children with a Prepubertal and Early Adolescent Bipolar Disorder Phenotype." Chapter in Child and Early Adolescent Bipolar Disorder: Theory, Assessment, and Treatment, B. Geller and M. DelBello, Eds., (Guilford Press: New York, 2002)
Geller, Craney et al. Two-year prospective follow-up of children with a prepubertal and early adolescent bipolar disorder phenotype. American Journal of Psychiatry, 2002 Jun;159(6): 927-33
Geller B, Craney J, et al. One-Year Recovery and Relapse Rates of a Prepubertal and Early Adolescent Bipolar Disorder Phenotype. American Journal of Psychiatry, 2001 Feb.; 158(2): 303-305
Hunter v. Land Works – St. Clair County, Illinois, summary judgment in favor of defendant in a premises liability case., 2014
Staples v. Paragon – Seventh Circuit Court of Appeals affirmed dismissal by the District Court, in an employment law case involving the so-called hybrid-301 claim., 2015
Wagner v. RJM Acquisitions – Defense verdict following jury trial in the U.S. District Court for the Eastern District of Missouri. Allegations of violations of the Fair Debt Collection Practices Act., 2015
McNeal v. Young's Construction – New Madrid County Missouri, dismissal of third party complaint on defendant's motion to dismiss based upon statute of limitations as to third-party construction defect claims., 2014
Staples v. Securitas et al. – U.S. District Court Southern District of Illinois, granted motion to dismiss in favor of defendant on plaintiff's. , 2014
Dalton v. First United Pentecostal Church – Summary Judgment, Circuit Court for Marion County, Illinois. , 2014
Hentz v. Nationwide Insurance Company – Summary Judgment, United States District Court for the Southern District of Illinois., 2012
Sloan v. City of Venice – Summary Judgment, Madison County, Illinois. , 2012
National Casualty Insurance Co. v. White Mountains Ins. – Summary Judgment, United States District Court for the Central District of Illinois., 2011
Ritchey v. Freightmasters et al. – Jury Trial, Fayette County, Illinois (trucking case defense verdict, May 2011)
Wilson v. City of Madison – Summary Judgment, Madison County, Illinois (employment discrimination, March 25, 2011)
Compac v. Superior Express – Summary Judgment, United States District Court for the Southern District of Illinois (carmack amendment issue, Feb. 11, 2011)
Skoklo v. City of Madison – Summary Judgment, Madison County, Illinois (employment discrimination, Jan. 17, 2011)
Foshee v. Warner – Jury Trial, Williamson County, Illinois (defense verdict, Nov. 2, 2010)
Lake v. Southern Hills – Summary Judgment, Macon County, Illinois (premises liability, 2010)
National Casualty Insurance Co. et al. v. Edgar County, et al. – Summary Judgment, United States District Court for the Central District of Illinois (insurance coverage declaratory judgment, January 2010.)
AMCO Ins. Co. v. Rohr – Summary judgment in the United States District Court for the Southern District of Illinois (insurance coverage, 2009)
Bastilla et al. v. City of Cahokia – Three day trial in United States District Court for Southern District of Illinois (December 2009)
Rose v. Madison – Four day trial in Madison County, Illinois (May 4, 2009)
Hess v. Hindley Manufacturing – Summary judgment for manufacturing client, in the United States District Court for the Central District of Illinois (products liability, 2008)
Cynthia Smith v. City of Madison and Mark Hayes – Three-day jury trial before judge Ralph Mendelsohn in Madison County, Illinois (defense verdict, September 8, 2008)
Keith Osterhage v. Kenneth Osterhage – Four-day bench trial before Judge Dennis Doyle in Monroe County, Illinois (breach of contract defense verdict, January 23, 2008)
Shelton Hempstead v. Allstate Insurance Company – One-day trial before Judge Statler in Pemiscot County, Missouri (February 7, 2007)
Heidi Warner v. Broadway Oyster Bar – Three-day jury trial in St. Louis City before Judge Mason in St. Louis City (January 19, 2007)
Lisa Chilton v. Tammy Powers – Two-day jury trial in St. Louis City before Judge Evelyn Baker in St. Louis City (automobile personal injury, defense verdict, August 2006)
Ellen Smith v. International Catering – Five-day jury trial in St. Louis City before Judge Phil Heagne in St. Louis City, Missouri. Was successful on subsequent appeal, which resulted in the published opinion of Smith v. International Catering, 231 S.W.3d 275 (Mo.App.E.D. 2007)
Slomka v. Fearless Tavern – Jury trial in Franklin County, Illinois, before judge Loren Lewis in Franklin County, Illinois (July 11, 2006)
Devon Sims v. Tiny Town Daycare Center – Jury trial before Judge Joan Berger in St. Louis City, Missouri (daycare injury, defense verdict January 30, 2006)
Latricia Walters v. Shelter Ins. Co. – Bench trial before Judge Elizabeth Hogan in St. Louis City, Missouri (October 3, 2005)
Gary Treece v. W. J. Zickel Co. – Two-day jury trial before judge Nancy Schneider in St. Charles, Missouri (premises liability, defense verdict August 30, 2005)
Mengwasser v. Farm Bureau – Jury trial before judge Robert D. Schollmeyer in Osage County, Missouri (defense verdict, June 4, 2005)
National Casualty Company v. White Mountains Reinsurance Company, et al., 2013 U.S. App. LEXIS 22145 (7th Cir. 2013), (insurance coverage)
Nationwide Insurance Co. v. Central Laborer's Pension Fund, et al., 2013 U.S.App.Lexis 721 (7th Cir. 2013), (insurance coverage)
Lake v. Related Management Co. et al., 936 N.E.2d 704 (Ill.App.4th Dist. 2010), (premises liability)
Illinois Leading Lawyers: Products Liability Defense and Toxic Tort, 2014
Illinois Leading Lawyers: Products Liability Defense and Toxic Tort, 2015
Missouri/Kansas Super Lawyers Rising Star, 2012
Gamma Beta Phi Honor Society
Alpha Sigma Nu
"Premises Liability Primer," Continuing Education Presentation, Claims & Litigation Management Alliance, 2016
"Introduction to Section 1983 Claims," Continuing Education Presentation, Claims & Litigation Management Alliance, 2015
Concealed Carry in Illinois: Governmental Entity Rights and Responsibilities., Illinois Association of Defense Trial Counsel CLE, 2014
"Commercial Law Update" , Illinois Defense Counsel, Statewide CLE Series, 2015
"Avoiding and Defending Bad Faith – Best Claims and Litigation Strategies," Continuing Education Presentation , Claims & Litigation Management Alliance, 2013
"The Carmack Amendment: Implications for Liability Claims Against Interstate Carriers," The Firm Inquiry, Winter 2011
"United States Supreme Court Holds that 'Mixed-Motive' Jury Instructions are Never Appropriate in Age Discrimination Case Brought Under the Age Discrimination in Employment Act," The Firm Inquiry, Winter 2010
"Wrongful Termination Suits Alleging Retaliation for Filing a Workers' Compensation Claim: The Law in Illinois and Missouri," The Firm Inquiry, Winter 2010
"Is an Employer Required to Show that a Non-Compete Agreement Protects a 'Legitimate Business Interest?' Trends in Missouri and Illinois," The Firm Inquiry, Winter 2010
"Reservations of Rights versus Declaratory Judgment Actions Under Illinois Law," The Firm Inquiry, Fall 2008
"Illinois Supreme Court Upholds 'Step Down' Clauses, Illinois Legislature Invalidates Them," The Firm Inquiry, Summer 2008
U.S. Department of Health and Human Services, Office of Inspector General, Clerk
Washington University Medical School, Statistical Data Analyst
Professional Associations
Illinois Association of Defense Trial Counsel, Present
Claims & Litigation Management Alliance, Present
Illinois State Bar Association, Present
Madison County Bar Association, Present
St. Clair County Bar Association, Present
Certified Legal Specialties
Health Law Certificate, St. Louis University Law School, 2002
Current Employment Position