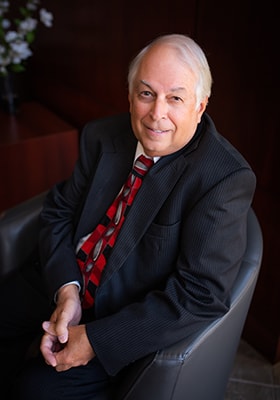 Insurance Defense
Insurance Coverage
Don Weber is a registered Patent and Trademark attorney, an experienced criminal lawyer and a retired Judge. He has served as Madison and Ford County State's Attorney, Assistant State's Attorney, Assistant Illinois Attorney General and 3rd Circuit Court Judge. He is admitted to practice before the United States Supreme Court, the 7th Circuit Court of Appeals and the Illinois Supreme Court and has argued cases before all three tribunals.
Don has been registered to practice before the United States Patent and Trademark Office for over 20 years. Having successfully obtained over 300 United States Patents, Trademarks and Copyrights, he is an experienced Intellectual Property Attorney. Don has also been involved in major patent litigation trials in Denver and Seattle. In the field of Intellectual Property, former Judge Weber handles Patent searches, Patent application filing and prosecution, Patent litigation, Trademark searches and Trademark application filing and prosecution.
Don has tried over 100 serious criminal felony cases as a prosecutor and as a defense lawyer. He successfully prosecuted or successfully defended over 20 murder trials in his over 30 year career in criminal practice. Don Weber was the successful prosecutor in The Paula Sims Murder Trial and co-authored a New York Times Bestseller about the case. He is a member of the prestigious Illinois Capital Litigation Trial Bar and is qualified under Supreme Court Rules to be Lead Counsel in Capital Litigation cases. He has tried 5 Death Penalty cases.
As a former Judge appointed by the Illinois Supreme Court, Don also handles mediation and arbitration. Former Judge Weber brings his background as a Judge and extensive experience in negotiations and settlement of major legal disputes to alternate dispute resolution.
Don has taught Trial Advocacy at St. Louis University Law School and Trial Advocacy and Cross-Examination on many occasions at the National College of District Attorneys in South Carolina. He was given The Director's Award for his special contributions to Law Enforcement by the Illinois State Police three times and has been a guest Lecturer on prevention of Child Abuse for the United States Department of Justice. Don was a Delegate to the Republican National Conventions in 1980, 1984 and 1988.
Saint Louis University School of Law, St. Louis, Missouri
The John Marshall Law School, Chicago, Illinois
University of Illinois , Champaign , Illinois

B.S., Bachelor of Science
Major: Ceramic Engineering
Supreme Court of Illinois
U.S. District Court Southern District of Illinois
U.S. Patent and Trademark Office, 1986
U.S. District Court Central District of Illinois
U.S. Court of Appeals 7th Circuit, 1995
Supreme Court of the United States of America, 1996
Director's Award for Law Enforcement for my work in the area of child sexual abuse
Director's Award for Law Enforcement for my work in the Karla Brown Murder Investigation
Director's Award for Law Enforcement for my prosecution of the case against Paula Sims
Awarded the Owens-Illinois Scholarship for Chemical Engineering
Expert Lecturer at the National Symposium on Child Sexual Abuse held at the United States Department of Justice, National Symposium on Child Sexual Abuse
Fund Raising Committee for the new building project of the Edwardsville YMCA, Present
Member of the Legislature's Special Select Committee on Satanic Ritual Abuse. Our work and findings resulted in Illinois' Ritual Sexual Abuse Act (720 ILCS 5/12-32 and 5/12-33.)
Commissioner of the Illinois Law Enforcement Commission
St. Louis University, Adjunct Professor of Law at St. Louis University – Trial Advocacy , 1998 to 2000
State of Illinois, Assistant State's Attorney , 1997 to 2005
State of Illinois, Circuit Judge
Madison County State's Attorneys Office, Senior Trial Attorney, 1997 to 2005
Assistant State's Attorney, 1989 to 1991
Ford County State's Attorney, 1988 to 1988
State's Attorney of Madison County, 1984
State of Illinois, Assistant Attorney General
Madison County, Illinois, Assistant State's Attorney in Madison County, Illinois in charge of the Juvenile Division
City of Collinsville, Collinsville City Commissioner
Professional Associations
Illinois Capital Litigation Bar , 2001 to Present
Madison County and Alton/Wood River Bar Association, Present
Alton/Wood River Bar Association, President , 1998 to 1998
Current Employment Position